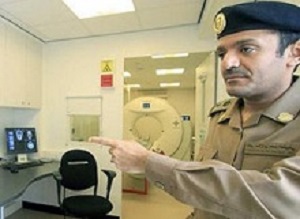 Medical associations have condemned the alleged role of the top UK-trained Saudi forensic pathologist had in the killing of dissident journalist Jamal Khashoggi, reports The Lancet.
The former Glasgow University student, Dr Salah al-Tubaigy, is one of 15 individuals identified by Turkish media that could have played a part in the disappearance of The Washington Post writer Khashoggi.
The Scotsman says in a report from Middle East Eye, Tubaigy is described as cutting up Khashoggi while he was still alive.
The journalist had been very critical of Saudi Arabia's crown prince and was last seen inside the Saudi Arabian consulate in Istanbul earlier this month. Khashoggi went missing on 2 October while visiting the consulate in Istanbul to pick up paperwork he needed to get married.
The report says in an account published in the Yeni Safak newspaper, Saudi officials were alleged to have cut off Khashoggi's fingers and then decapitated him at the consulate as his fiancée waited outside.
In their report, The New York Times stated that royal guards and security delegates may not always report directly to their official superiors adding that al-Tubaigy's presence suggested "that killing might have been part of the original plan".
The Scotsman reports that al-Tubaigy's profile has been removed from government websites but it is understood he completed a master's degree in forensic medicine at Glasgow University in 2004. The university said it does not discuss its students or staff.
He holds senior positions in the Saudi Interior Ministry and medical establishment, a "figure of such stature that he could be directed only by a high-ranking Saudi authority", The New York Times was quoted as saying.
It has emerged that al-Tubaigy studied forensic medicine in Australia. News.com reports that the Victorian Institute of Forensic Medicine confirmed that al-Tubaigy spent three months training as a forensic pathologist at the Melbourne facility in 2015.
Institute director Professor Noel Woodford is quoted in the report as saying he did not meet the Saudi surgeon during his Australian placement but understood he voiced a particular interest in the field of mass disaster victim identification.
According to Professor Cordner, one of al-Tubaigy's responsibilities was dealing with disasters, particularly deaths of pilgrims during the annual Hajj pilgrimage in Mecca. "He did get familiar with the use of our CT scans in a post mortem context," Cordner said.
"He didn't do any autopsies. He observed autopsies, attended academic meetings, so really just attended things that happened in the building."
The report says Cordner said the institute took a "generous view" of people who had indicated they wanted to spend time there observing. "We approach them as though they're honest people dealing with us wanting to improve the lives of the people in the country they come from," he said.
[link url="https://www.scotsman.com/news/scots-educated-doctor-linked-to-alleged-murder-of-journalist-jamal-khashoggi-1-4816557"]The Scotsman report[/link]
[link url="https://www.news.com.au/world/middle-east/saudi-doctor-accused-of-killing-and-dismembering-journalist-trained-in-australia/news-story/b8cc1f8c374385648ea803ca86e53666"]News.com report[/link]
[link url="https://www.thelancet.com/journals/lancet/article/PIIS0140-6736(18)32628-X/fulltext"]The Lancet report[/link]