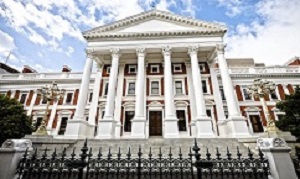 While a parliamentary committee has decried the blockading of hospitals by strikers, demands by North West doctors that the SA Department of Health guarantee both patients' and health care workers' safety, still remain unmet, reports the Rural Health Advocacy Project. A SA Human Rights Commission investigation has been demanded.
Protesters blockaded the entrance of the Steve Biko Academic Hospital in Pretoria with burning tyres on Wednesday last week' the same day that strikers blockaded two hospitals in the North West.
The Times quotes Jack Bloom' a Democratic Alliance member of the Gauteng Legislature' as saying that, according to the Steve Biko hospital's acting CEO' Dr Mathabo Mathebula' the violence was perpetrated by former private security guards who were dismissed last year for misconduct and are demanding to be reinstated. Police were called to disperse the protesters and a case of malicious to property has been opened.
This violence follows the trashing two weeks ago at the Charlotte Maxeke Johannesburg Hospital where police also had to be called in. "It is shocking that there is such disrespect for a place of healing which should not be disrupted under any circumstances'" said Bloom. "I commend the police for restoring order' and I hope the perpetrators appear in court soon. Anarchic activities that target hospitals should be curbed speedily and firmly."
Meanwhile, the report says, the blockading of two hospitals in the North West by protesters was decried by parliament's Select Committee on Social Services' with chair Cathy Dlamini saying patient care had to take top priority. It was reported that doctors were prevented from entering the Tshepong and Klerksdorp Hospitals. Dlamini said ambulances were also being prevented from entering the hospital grounds at Tshepong. "The provision of life-saving services to patients should always take priority above any discontent'" she said.
Staff in the North West have been staging rolling protests against a shortage of healthcare workers and alleged corruption in the department. The report says community workers and counsellors have also joined them in protest against low remuneration.
"While we are all concerned about these serious allegations' robbing patients of life-saving care can never be justified. We encourage constructive engagement on platforms put in place to deal with the matter'" said Dlamini.
The committee called for intervention from the departments of health at national and province level' as well as the South African Police Service.
Demands by 70 North West doctors for "The National Department of Health to guarantee both patients' and health care workers' safety when receiving and delivering services" has not been met one week after an open letter was published on 3 May 2018.
Samantha Khan-Gillmore knowledge manager, Rural Health Advocacy Project is quoted as saying that while it may seem as if the worst of the riots in the North West Province has passed, following a climax of protest and violence over the past two weeks, the situation is all but stable with continued reports of patients left unattended and worse, as reported by a doctor: "Protestors in Tshepong theatre. They are forcing staff out. We have 3 cases pending in theatre but we are unable to continue working in theatre. We are getting out."
Khan-Gillmore says that the Open Letter (1) by 70 doctors indicated the depth and breadth of the problems facing North West Province healthcare services. Much needs to be done to ensure safe access to healthcare is restored for patients.
Doctors have been quoted as saying: "How do we work when we don't have nurses on duty? Patients are coming to knock on our doorsteps looking for help which is putting our families at risk". Another doctor laments: "Our registrars and interns are still in the hospital but they have taken all our nurses." While one doctor says that peace and quiet has returned at his facility after a morning of violent protest action and another responds "but it means that we are not sure whether the service will be back to normal tomorrow. In essence, we must just wait and see."
Today a rural doctor expressed concerned that "due to the uncertainty, from the remote areas we cannot send patients" upwards to higher levels of care.
Khan-Gillmore says that while the National Task Team, consisting of various Ministries including Health, Finance and the Justice, Crime Prevention and Security Cluster is expected to submit a report with recommendations, which will certainly looking into short and long term interventions, more is needed immediately now to meet the 70 doctors plea for "the National Department of Health to guarantee both patients' and health care workers' safety when receiving and delivering services."
Questions to the National Task Team:
• What measures are in place for health users requiring emergency treatment during the protest action if facilities in close proximity, are closed?
• What security measures are in place for both healthcare users and workers? Security services are not optimal to ward off mob protestors who enter facilities.
• Six hospitals in the province refer to a regional hospital in Klerksdorp – uncertainty of planned patient transport and the situation at the referral hospital makes for a delay in access to treatment. How will this be circumvented?
• When will each hospital management be able to access feedback from the meeting and filter this information down to the clinical teams?
• What is the identified action plan for health service delivery in the province in a constrained and unprotected working environment?
• Will the task team develop and share a communication plan with all stakeholders (healthcare workers, patients and civil society)?
• Will the Minimum Level Service Agreement (MLSA) be reviewed in order to protect patients' healthcare during times of industrial action? We further reiterate the recommendation by the Rural Health Advocacy Project (2) to have civil society representatives on the task team and for the process to be transparent. While health allocations will rightfully be under scrutiny, we draw attention to the loss of 1299 health posts between 2015 and 2017 due to 'austerity measures' and call upon a process that prioritises critical health posts to ensure access to healthcare for all. Critical health posts are not limited to doctors posts and referral centres in densely populated regions. Special attention should be given to most vulnerable groups such as rural communities in the deprived parts of the province.
Marije Versteeg-Mojanaga director: Rural Health Advocacy Project and Advocate Bongani Majola chair: South African Human Rights Commission, in a discussion document, request an urgent investigation into the health impact of protests in the North West Province.
They write:
"1. You will be aware of the ongoing disruptions in health care services in North West Province due to the protests by health unions in the Province.
2. The protests have had a detrimental impact on the access to health care services of people in the province. We have received reports of protestors invading theatres, threats to the lives of doctors, doctors being forcefully removed from hospital wards and entrances to hospitals being blocked off, meaning no supplies or drugs can be delivered.
3. The disruption will also have long-term consequences as patients with HIV, TB and other chronic diseases are unable to collect their chronic medication. Many patients will simply be lost to the system forever because record-keeping systems in the province are severely dysfunctional. This too will eventually cause loss of life.
4. We stand in solidarity with many of the demands of striking health care workers for decent and safe working conditions and living wages. In particular, the practice of paying what amounts to slave wages to community health workers and lay counsellors is abusive and undermines the workers themselves and the value that they add to the health system. However, the protests have denied vulnerable and poor people access to healthcare and life-saving services. This causes great pain, suffering and loss of life for the most vulnerable.
5. While the North West Department of Health and the provincial Treasury have been placed under administration, the protests have continued and the negative impact on patients remains.
6. It is for this reason that we request an urgent investigation, by the South African Human Rights Commission, into the violations of the rights of health care service users as a result of the strike action. The publication of a report following such an investigation will be important to shed light on the issue and will inform discussions around possible Minimum Service Level Agreements in the health sector, discussions that we believe are necessary to appropriately protect the right to strike while also protecting the rights of health care service users to receive such services.
7. The Rural Health Advocacy Project has been working with a number of doctors in the province and would welcome the opportunity to put you in touch with these doctors. In addition, I attach the following documents that may assist in the Commission's investigation: RHAP and Doctors Statement on NW crisis to National Task Team • Discussion document: Healthcare workers' rights, ethics and a minimum service level agreement or alternative mechanism.
8. Lastly, we are a member of the StopStockOuts Project (SSP), a consortium of organisations advocating for reliable access to essential medicines. We believe it would be beneficial if the SAHRC, as part of this process, also engages with the SSP on its experiences and findings on the disruption of health services in the North West Province.
9. We look forward to hearing from you and trust that we will be able to work together on this important matter."
Patients are now being denied healthcare at a third hospital in the North West. "Taung Hospital is shut down'" the Rural Health Advocacy Project said in a report in The Times. "Nurses are not allowed in and are being driven from the wards. Few nurses in maternity and neonates. There are no nurses in theatre."
Dr Ndiviwe Mphothulo said patients and nurses at Gateway Clinic' next to the Taung hospital' were also chased away. "Poor people will spend the weekend without medication'" said Mphothulo.
The report says in a series of tweets flagging the problems in the North West' tagging the National Health Department and the South African Human Rights Commission' amongst others' the Rural Health Advocacy Project asked despairingly: "Who do we call when all we want is for rural communities to have access to healthcare services? Why should these communities be denied this right?"
In the Eastern Cape' meanwhile' the report says a Twitter user shared that a hospital's laundry was being done by… patients!
The National Health, Education and Allied Workers' Union (Nehawu) is calling on its members to strike, reports eNCA. The union says medical staff are expected to work in poor conditions in the province and it wants the presidency to intervene.
Long lines were the order of the day at Potchefstroom Hospital and, the report says, nursing staff say this is the norm at the hospital and that is why they want to strike. Staff also want a better managed healthcare system, saying corruption is rife and it is affecting services.
The Health Department is concerned about the disruption and says it will prioritise critically ill patients and emergency cases. The department says nurses and doctors who are willing to work must show up for work.
[link url="https://www.timeslive.co.za/news/south-africa/2018-05-10-pretoria-hospital-blockaded-with-burning-tyres/"]The Times report[/link]
[link url="https://www.timeslive.co.za/news/south-africa/2018-05-11-nurses-intimidated-at-another-north-west-hospital/"]The Times report[/link]
[link url="https://www.enca.com/south-africa/watch-north-west-faces-total-healthcare-shutdown-on-Wednesday"]eNCA report[/link]