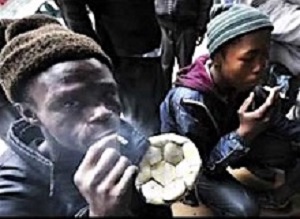 Durban has a drug crisis and the provincial and city government's failure to respond adequately has made the whoonga problem worse, writes eThekwini Councillor Nicole Graham in Daily Maverick. The crux of this matter is very little capacity to care for and rehabilitate drug addicts in the city.
There are many current threats to Durban's success as a city. The city's economy is stagnant and unemployment is at an all-time high, particularly among young people. The combination of unemployed, bored young people, permeable borders and poor policing has led to a growing drug crisis.
The failure of government, both at a provincial and city level, to respond adequately to this problem has only made it worse. The homelessness and drug crisis, unfortunately, go hand in hand, with many of the city's drug addicts homeless as well.
Mayor Zandile Gumede has recently taken to spending much time talking about Durban's "whoonga" problem. At every meeting of the council's executive committee she goes on and on about how the addicts should not be called "amaphara" as it's a derogatory word and should be treated with dignity and kindness.
eThekwini Municipality recently held a sports day of sorts, where the homeless could play netball and soccer against metro police. While we agree fully with her sentiments, the fact of the matter is that the city has no real grasp on this burgeoning crisis.
In 2014, the city launched the Qalakabusha Programme, which aimed to clean up the inner city and King Dinuzulu Park. There were almost 500 people, most of whom seemed to be whoonga addicts, living in that park at the time. Many of these people were presumed to be foreign nationals but the opposite was found to be true.
The city sent the park's residents back to their homes, most of which were within the municipality's boundaries. This was largely a failed mission, with most of the addicts not wanted at home after having stolen from their families and communities for their next hit.
Metro Police, stuck between a rock and a hard place, spend most of their time displacing homeless people in the city and moving them from one place to the next. They often burn or confiscate their blankets or possessions in an attempt to encourage them to move on, but only make their pitiful lives more unbearable. There have been numerous scandals where residents of sleepy towns on the outskirts of the city have woken up to find hundreds of homeless people dumped on their doorsteps.
When King Dinuzulu Park was raided, many of its former residents moved into the surrounding suburbs to avoid the law enforcement efforts. This exacerbated crime in many suburbs across the Berea and proved frustrating and costly for many residents.
The crux of this matter is that there is a very little capacity to care for and rehabilitate drug addicts in the city. Whoonga is a cocktail of drugs but contains heroin, a dangerous and addictive opioid. I am no expert on drug addiction but all the evidence shows that weaning yourself off heroin without medical help is incredibly difficult and makes you very ill.
Research done by my colleague in the KwaZulu-Natal Legislature, Dr Rishigen Viranna, showed that KZN only has three government-run in-patient rehabilitation facilities. They have a total capacity of 134 patients at any given time. Only one of these facilities – the Newlands Treatment Centre – is in eThekwini. It is reported to be in a shocking state.
While the City of Cape Town runs six of its own rehab facilities, eThekwini doesn't have a single one. There are other facilities that are run by NGOs and private stakeholders, but these can be expensive or difficult to access.
Over the years, there have been many dialogues attempting to resolve the problem. I attended some of these, and the response from the addicts themselves was always the same – we want help, but there simply isn't any available. The waiting lists to get into rehab are too long, or when we exit rehab there is nowhere to go. One bad choice to smoke whoonga is a life sentence because there are very few avenues out.
In 2015, eThekwini set up the Homeless Advisory Committee that was meant to formulate a multi-disciplinary response to the problems we face. I and many colleagues contributed in the hope that it would finally achieve some level of success. It met a few times but seems to have fallen completely off the radar in the new council term.
As it stands, the scale of the problem seems to grow weekly. Open spaces in and around the city are generally overtaken by "whoonga" users, many of whom readily turn to crime to satisfy their habits. The city and the province are simply not responding adequately to the huge problem in front of us.
If Mayor Gumede is as concerned about the problem as she claims to be, she needs to put her money where her mouth is and urgently take real steps to resolve it. Sports days just won't cut it. Both the municipality and the province need to set aside budgets for rehabilitation centres and dignified shelters. Metro Police need a specialised drug unit to get to the root of the problem, and not just push people around. Greater attention needs to be paid to the plight of the Durban's unemployed youth, as our economy stagnates.
Drug problems don't just resolve themselves, and this one is only getting worse
[link url="https://www.dailymaverick.co.za/opinionista/2018-08-13-whoonga-durban-municipality-needs-to-put-its-money-where-its-mouth-is/"]Article on the Daily Maverick site[/link]