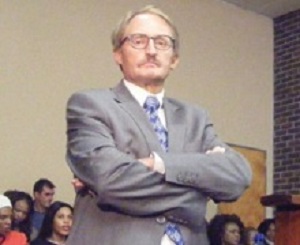 Witbank gynaecologist Dr Danie van der Walt has been sentenced to five years for culpable homicide after he grossly neglected his patient who later died in the Life Cosmos hospital after giving birth.
The Citizen reports that Witbank magistrate Merlene Greyvenstein said DVan der Walt had failed to do everything a specialist of his calibre should have done to save the life of Pamela Daweti who bled profusely after giving birth to a baby girl' Lisakhanya' on 11 August.
She died a day later.
Before passing sentence in a packed courtroom on Thursday, Magistrate Marlene Greyvenstein said Daweti's death might have "been prevented" if Van Der Walt had remained at the hospital attending to the patient. She was bleeding after giving birth when he left.
She also lamented the fact that Van Der Walt did not show remorse during the course of the trial, but pointed out that she took into account the fact that Daweti's bleeding was not necessarily caused by Van Der Walt.
"There is no evidence which suggests that the bleeding, which was the cause of Daweti's death, was necessarily caused by Dr Van der Walt," said Greyvenstein.
"I'm not ignoring your personal circumstances. I acknowledge that you are a respected specialist in this profession. I consider the fact that you have no previous convictions.
"You are of mature age and a valid member of the community, where you provide a much-needed service. But I hold a view that a community-based sentence will not be correct. I'm of the view that the most balanced sentence will be that of imprisonment."
Greyvenstein's judgment also contained her responses to Van Der Walt's legal representative, Advocate Mike Helens, who asked the court to impose a suspended sentence coupled with a fine on his client during earlier court proceedings.
Helens had described Van Der Walt as a pillar of society who was always available to the people he served.
"This is the man who has made himself available to the society," said Helens. "He is an outstanding citizen and a family man."
Presenting the factors in aggravation of sentence earlier, state prosecutor Francois Brandt said it was evident from the start of the trial that the degree of culpability on the part of Van der Walt was not of a slight nature. He asked the court to impose a prison sentence.
Van Der Walt did not show any emotions after the sentence was passed.
Helens told the court that his client would apply for leave to appeal the conviction and the sentence.
The report says the magistrate has granted Van der Walt leave to appeal against both his conviction and sentence. Van der Walt spent some time in the holding cells while waiting for his family to pay his R10'000 bail. He will remain free' pending the appeal.
[link url=http://citizen.co.za/news/south-africa/1589893/witbank-gynaecologist-jailed-for-five-years-for-patients-fatal-bleeding/"]The Citizen report[/link]