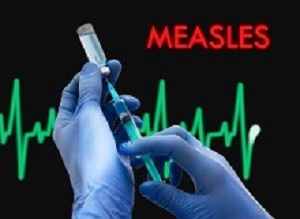 The UK Prime Minister Boris Johnson has said social media firms must share the responsibility for the rising spread of measles in the UK as he attacked antivax misinformation. According to a report in The Daily Telegraph, Johnson has set out plans to improve vaccination rates following a rise in cases of measles. In the first quarter of 2019 there were 231 confirmed cases of measles, just three years after the World Health Organisation (WHO) declared the UK measles-free.
The report says earlier this year Simon Stevens, the head of the National Health Service (NHS), said "fake news" by anti-vaxers on social media had fuelled a tripling in measles cases and added that the promotion of misguided messages on Instagram and YouTube was one of the factors behind the dip in vaccinations.
NHS England will write to all GPs urging them to promote "catch-up" vaccination programmes, and will seek to strengthen the role of local immunisation co-ordinators in a bid to improve uptake. It will also seek to update the advice on the NHS's website to address misleading information about the dangers of vaccines.
The report says as part of the UK Health Department's strategy it plans to work with the Education Department to explore more ways in which students can be informed about their health, including the value of vaccinations, which they hope will enable them to critically assess misinformation spread online about certain vaccines.
One in seven five-year-olds may not be up to date with their MMR immunisation, The Guardian reports Public Health England has warned, rising to one in four in London. There have already been 230 cases in England in the first quarter of the year. The report says the WHO has withdrawn the UK's measles-free status because of the outbreaks.
PHE has revealed that about 30,000 children are starting primary school next month with no protection against measles, mumps and rubella, while 90,000 have had only the first of the two vaccines necessary for protection.
The report says the numbers of children having the four-in-one booster against diphtheria, whooping cough, tetanus and polio has also fallen. About 100,000 (around one in eight) five-year-olds in England are thought not to have had the jab, which is normally given at about three years and four months, said PHE.
Dr Mary Ramsay, head of immunisation at PHE, urged parents to check their children had had the full set of vaccinations.
[link url="https://www.telegraph.co.uk/news/2019/08/18/pm-say-social-media-firms-must-share-responsibility-rising-spread/"]The Daily Telegraph report[/link]
[link url="https://www.theguardian.com/society/2019/aug/19/mmr-vaccine-one-in-seven-five-year-olds-in-england-may-not-be-immunised"]The Guardian report[/link]