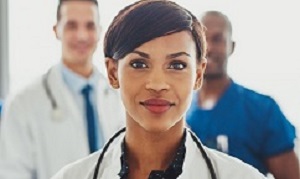 A large US study found higher mortality among female heart attack patients treated by male doctors than those treated by women. Male and female patients experience similar outcomes when treated by female physicians, suggesting that unique challenges arise when male physicians treat female patients.
Female heart attack patients treated by male doctors have a worse chance of survival than those treated by female doctors, The Guardian reports a study suggests. Previous studies based on data from Australia and Sweden have revealed that men and women experience different care if they have a heart attack, while UK research has shown women are more likely to be misdiagnosed.
Now researchers say the gender of the doctor might affect female patients' chances of survival.
"We find that gender concordance increases a patient's probability of surviving a (heart attack) and that the effect is driven by increased mortality when male physicians treat female patients," said Dr Brad Greenwood, associate professor of information and decision sciences at the University of Minnesota.
Greenwood and colleagues describe how they looked at records from Florida of emergency department admissions for heart attacks between 1991 and 2010. As well as looking at the patients' age, gender, and whether they had other health problems, the team also looked at whether the patient died during their stay in hospital and whether the emergency room doctor primarily looking after them was a man or a woman.
The results from more than 580,000 patients reveals that overall, 11.9% of heart attack patients died while in hospital.
However, the team found that when patients shared the same gender as their doctor, they were more likely to survive, with the probability of death falling by just over 0.6 percentage points once factors including the patients' age, other health problems, the physician, and hospital-specific differences were taken into account.
The report says further analysis showed that men and women had similar chances of survival when they saw female doctors. But male doctors were linked to worse outcomes, particularly for women.
Female patients treated by male doctors were about 1.5 percentage points less likely to survive a heart attack than male patients in the care of female doctors.
The team also found women were more likely to survive if the emergency department had a higher proportion of female doctors who had treated heart attacks – a trend particularly strong if the woman was being treated by a male doctor. That, said Greenwood, could be because female doctors might share their experience in tackling heart attacks in women. In addition, the more female patients a male doctor had previously treated for heart attacks, the better the chances of survival a woman had.
"These results suggest a reason why gender inequality in heart attack mortality persists: most physicians are male, and male physicians appear to have trouble treating female patients," the authors write. They suggest more female doctors are needed within emergency departments, and say training of doctors needs to be improved to make sure heart disease is not seen only as a male issue.
According to the report, Greenwood speculated that there could be several reasons for the trend. "One could be that female patients are more comfortable advocating for themselves with a female physician," he said. "(Or) it could be because women are more likely to present atypically and female physicians are better at picking up cues than their male colleagues."
The report says Chris Gale, professor of cardiovascular medicine at the University of Leeds who was not involved in the latest research but has worked on previous studies in the field, welcomed the new research but cautioned that the study was based on US data, meaning it is not clear if the same trend is present in other healthcare systems including the National Health Service (NHS). What's more, Gale noted that as in the UK, US patients are generally seen by a number of healthcare professionals if they seek medical help, meaning that looking at the gender of just one doctor is a limitation.
Gale added that the longstanding idea that a heart attack patient is generally a middle-aged man with risk factors such as smoking, being overweight and having diabetes, high blood pressure or high cholesterol could be putting women at a disadvantage.
"What we do know is that women present with heart attack as well, and you don't necessarily need to have those risk factors – although it is much more likely if you have a risk factor," said Gale. "We also know that women with heart attack do have symptoms just like men do, but they can also present atypically as well."
Abstract
We examine patient gender disparities in survival rates following acute myocardial infarctions (heart attacks) based on the gender of the treating physician. Using a census of heart attack patients admitted to Florida hospitals between 1991 and 2010, we find higher mortality among female patients who are treated by male physicians. Male patients and female patients experience similar outcomes when treated by female physicians, suggesting that unique challenges arise when male physicians treat female patients. We further find that male physicians with more exposure to female patients and female physicians have more success treating female patients.
Authors
Brad N Greenwood, Seth Carnahan
[link url="https://www.theguardian.com/society/2018/aug/06/women-more-likely-to-survive-heart-attack-if-treated-by-female-doctor-study"]The Guardian report[/link]
[link url="http://www.pnas.org/content/early/2018/07/31/1800097115"]Proceedings of the National Academy of Sciences (PNAS) abstract[/link]