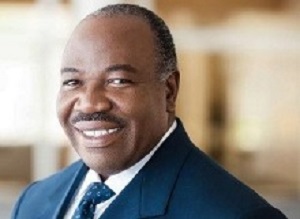 It is one of the stranger occupational hazards for world leaders: that at some point in their career they may have to deny reports of their own death. The Guardian reports that just one day after the Nigerian president Muhammadu Buhari denied claims he had died and been replaced by a Sudanese impostor "clone", another world leader has been forced to address rumours of his demise.
Ali Bongo, the president of Gabon, made his first appearance on Monday since falling ill nearly six weeks ago. Rumours of Bongo's death have been widespread since he collapsed at a conference in Saudi Arabia on 24 October, with sources telling Reuters he suffered a stroke. No specific details of his condition have been shared by the president's office, except that he was suffering from fatigue and "bleeding", fuelling rumours he had died.
Bongo's "proof of life" video has no audio but shows the president sitting down in a blue and white robe talking to Mohammed VI, the king of Morocco. At one point in the video, Bongo sips on what appears to be a glass of milk.
The report says that Bongo and Buhari are just the latest in a long line of world leaders who have been forced to address widely exaggerated rumours of their deaths.
Reports of the death, or imminent death, of Robert Mugabe, who was president of Zimbabwe for 30 years, crop up every few years, often when the 94-year-old disappears from public view for several days. In 2009, The Times of South Africa reported the then 85-year-old had been secretly taken to Dubai for treatment following a "serious scare", which was dismissed by Zimbabwean officials as the product of "sick and evil minds". In 2009, rumours that the president was close to death in a Singapore hospital were dismissed by officials as "hogwash".
In 2016, it was reported that Mugabe had died mid-air on a trip from Dubai, which Mugabe laughed off upon landing at Harare airport, saying: "Yes, I was dead. It's true I was dead. I resurrected as I always do once I get back to my country. I am real again."
The report says the Russian president Vladimir Putin vanished for almost two weeks in 2015 and the rumour mill went wild. Some posited he had died, others speculated he had had botched plastic surgery, and others said he had travelled to Switzerland for the birth of a secret lovechild. More likely rumours included that the president had the flu or back trouble. The Kremlin refused to comment, saying simply "the topic is closed".
The report says disappearing from public view, or not being seen at an event you're expected at, is a common catalyst for death rumours. In July 2011, reports that Jiang Zemin, who led China from 1989 to 2002, had died began circulating after his absence from celebrations of the 90th anniversary of the Communist party.
Rumours about Jiang prompted China's internet censors to go into overdrive. Searches for the leader's name, or even just for "jiang" – river – resulted in the warning: "Search results are not shown due to relevant laws and policies." He eventually reappeared in October, at a commemoration event in Beijing.
Rumours that Kim Jong-un had been assassinated began spreading in 2012, shortly after he became the leader of North Korea. The report says the "assassination" was said to have occurred in Beijing with rumours spreading via Chinese social media platform Weibo, before being picked up by US news sites. The rumours spread after people saw and retweeted a tweet coming from a fake account that looked like a BBC account confirming the death. Obviously he is not dead, having since been photographed all over North Korea, as well as meeting with world leaders including Donald Trump in June this year.
And, the report says, Ayatollah Khamenei, Iran's supreme leader, has twice had his death or imminent death falsely reported – first in 2007 and again in 2009. Both times the rumours originated or were fanned by the same person, leading American neo-con Michael Ledeen. Khamenei is still alive, having made numerous public appearances since 2009.
[link url="https://www.theguardian.com/world/2018/dec/04/staying-alive-world-leaders-who-have-had-to-prove-they-havent-died?CMP=Share_iOSApp_Other"]The Guardian report[/link]